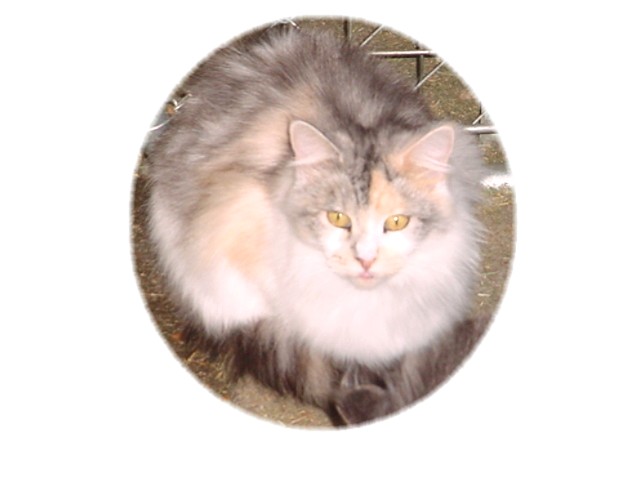 "Creme" is being retired and has found a new home. 8/01/10
NIWOT CREME BOUELE
12/17/01 CFA # 9785-1351660
sire: Willabelle Granche
ss: The Cathut Sampson of Niwot
dam: C-Quest Primary Colors
ds: CH Kitkor's Kapacino
Creme was from one of my very first litters, and has always been a favorite. She is the one who throws calicos, high whites, and red's. I can always count on an interesting litter from her along with cats of quiet temperament. She is a good mother and I only breed her once a year now.
Grey & white male from Creme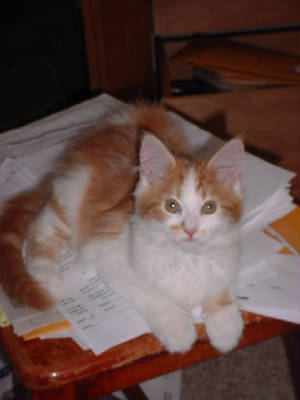 "Papermate" Creme male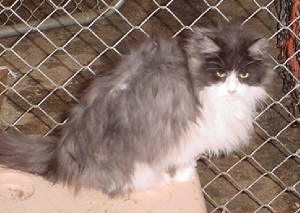 DIAMOND 'LIL
"Lil" is being retired and is searching for a quiet home with someone to give her a lot of love!
NIWOT DIAMOND LIL
4/15/02 CFA # 1723-1430133
sire: TheCathut Sampson of Niwot
ss: GC Gentlegiants Sampson of TheCathut
dam: Willabelle's JD Diamonds-N-Gold
NIWOT BOBBY SOCKS
born fall '05
sire: Niwot Sylvestor My Own
dam: Niwot Clouds of Smoke
Socks (sometimes called "boots") was from the start the most gorgeous cat I ever raised. She is large, typy, and very playful. Her kittens from Stetson have all been wonderful and very popular - see Kitten page. Currently has a litter just born.
NIWOT SYLVER SMOOCH
born July 25, '07
Sire: Niwot Sylvestor My Own
Dam: Niwot Clouds of Smoke
A very pale silver mac replica of Bobby Socks, I just had to keep this one as well. Her kittens when bred to Stetson are a pale, luxurious Silver with lots of personality. See Kitten page. She is bred back to Stetson for a spring litter.